The series of articles "Latvija var!" portal Delfi dedicated enterprising people in the Latvian business, whose ideas become the innovative products win export markets or the hearts of the customers in Latvia. The project was created in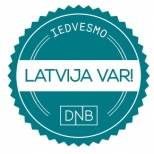 collaboration with DNB.
The cooperative "strike" was created in 1988. After the restoration of independence of Latvia it was transformed into a "Limited strike". Currently, OOO "strike" — one of 14 companies included in the "strike Group". Over 29 years of activity the company managed to establish export in more than 30 countries in Europe and in North America and Asia. However, over the years had to endure a series of crises that helped to change the perspective on potential markets and make difficult decisions about the future development of the brand.
Consolidated turnover "Sаlmo Group" last year, in comparison with the year 2015 increased by 2%, amounting to about € 28 million, says Board member "Sаlmo Group" hunter Wisla. The three most popular brands of the group — "Salmo" (fishing supplies, including fishing rods and fishing line), "Lucky John" (accessories for spinning, and monkey), "Norfin" (summer and winter clothing for Hiking and fishing).