The series of articles "Latvija var!" portal Delfi dedicated enterprising people in the Latvian business, whose ideas become the innovative products win export markets or the hearts of the customers in Latvia. The project was created in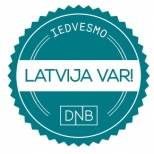 collaboration with DNB.
"If you go to the store and try to select some audio device, you are offered options with different sounds. But what should it be? In my opinion, the only sensible answer to this question — it should be the same as in the original provided by the artist, not as invented by some manufacturer. If we succeed, it will be a very radical new format, and we will solve the problem that exists in this industry initially. Namely, no one has ever managed to introduce a single format that you can listen to music. Everyone always listened to as sound device," says BEMS plans Sonarworks.
Sonarworks enterprise, which mainly specializes in digital sound correction, founded in 2013. In four years the number of customers worldwide reached 13 000. Last year the turnover amounted to almost a million euros. The user is satisfied with the achieved, but notes that the ideas and goals of the company is full of.
"In principle, we are a company that understand why headphones and speakers sound bad, and what to do to sound better. While our main customers — the "guys of the studios" because they need it in their daily work. In a nutshell you can explain this: no one in the industry does not know how to adjust the headphones, so they don't know how to do them correctly. They have some sort of expert. The result depends on what his mood is that day," says the specialist Sonarworks marketing Rūdolfs putniņš.
1. A happy accident led to the "heavyweights" of the industry
2. We want to create things that aren't there
3. 1,5 million euros of investment and company that operates as a single mechanism
4. The different investment at different stages of development