The series of articles "Latvija var!" portal Delfi dedicated enterprising people in the Latvian business, whose ideas become the innovative products win export markets or the hearts of the customers in Latvia. The project was created in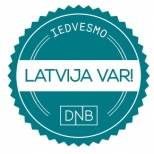 collaboration with DNB.
The idea of the brand Kinetics was the business partner of the current owner and the head of the company Andrzej Stanslaus. "He had a desire to develop that idea, and I had the knowledge how to do it. We agreed that I take the case and begin to develop", says Stances, which in October last year fully acquired the shares of the company. In 2002, when the company first appeared, the range was only four product to build so popular at the time, acrylic nails. According to Stanslaus, then the vision was narrow, and had not even any idea that the enterprise could compete with the world's largest brands.
Kinetics now offers over 700 products and approximately 80% of them fall into the professional market. In turn, about 30% of all products produced for private trademarks, or other brands. Almost all products of the company goes abroad.
How told the portal Delfi is a specialist in nail care, network of beauty salons Maija Victoria Shumchik (in these salons are separate products Kinetics) for customers is important the durability of nail Polish. Perhaps that is why the clients often choose the lucky cat. Now varnish-jelly even more popular than gel nails.
As for the most popular colors, the expert notes that in summer customers prefer bright and colorful tones, and in winter, the nails are often coated with lacquers of red and dark shades.