Every year on 16 March in Latvia held the traditional commemoration events of the Latvian Legionnaires. Details of how this occurred since 2005 can be read here.
In 2016, it was stated four activities - small pickets at embassies, two of the picket near the Monument of Freedom and the Central event of the procession of legionaries and their supporters.
Law enforcement worked in the strengthened mode: in the center of Riga were established barriers and blocked traffic, the procedure provided a cordon of police and a private security company. Special forces soldiers escorted the convoy during the March, there were also dog handlers with dogs.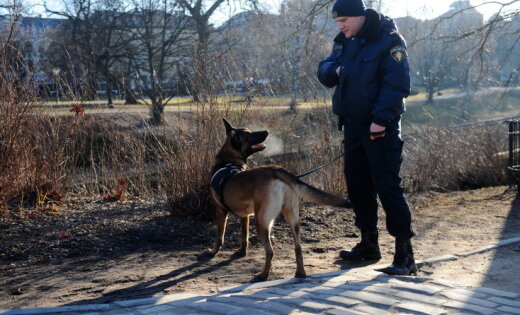 Foto: LETA
Before March 16, the Latvian law enforcement authorities were not allowed into the country two lawyers news Agency "Russia today" (this is most likely a coincidence: they planned to participate in the court for registration of a representative Agency in Latvia), as well as activists, German anti-fascist organizations.
Two small pickets at the embassies of Russia and Germany gathered about 10 participants. Everything went correctly and peacefully.
The anti-Fascist Committee organized a picket of opponents of the March gathered about 30 participants, among whom were the head of the Committee, Joseph Koren and "hunter of Nazi war criminals" Efraim Zuroff. Anti-fascists they behaved correctly and safely, no bright shares this year.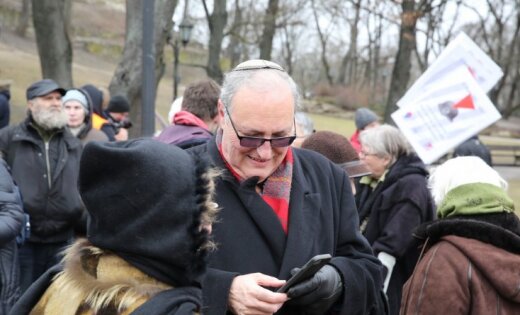 Foto: DELFI
In the procession of legionaries at the Monument of Freedom was attended by about 1,000 people. Among them were senior officials of Latvia, but was attended by the deputies of the Sejm from the "National Association" leaders BUT Raivis Dzintars and Imants Paradnieks. Last year, the convoy was joined by the Minister Einars Cilinskis, who eventually lost his Cabinet position Laimdota Straujuma.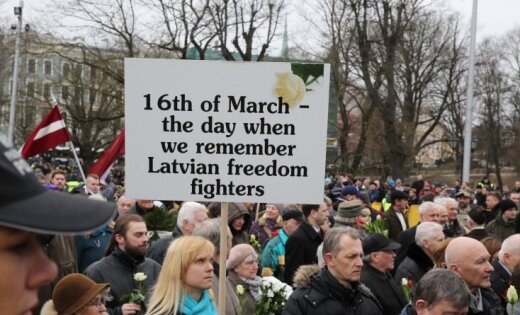 Foto: DELFI
The procession went without incident, unless you count the verbal sparring between Imanta Paradicsom and the man with the flag of the Ukrainian battalion "Azov", who tried to stand in the column. Ukrainian activist to join the procession is not allowed.
Not allowed and the blogger-journalist Graham Phillips, who made a name for himself on the Pro-Russian reports from the Donbass. In the end, he was only detained for violation of public order and disobedience to police orders, because after the procession, during flower-laying, aggressive pestered everyone with the question "Why do you glorify fascism?".
At the monument of Freedom were noted "Perkonkrusts" Igors Siskins, activists of radical nationalist movements Gustava Celmiņa centrs and the leader of the anti-globalization Andris Orols. In the procession they also did not accept.
Otherwise, everything went smoothly. As expected.