In recent months, this colorful young man managed to "light up" in two conflict situations due to improper Parking. Caune loves to leave their cars at a convenient place, such as in front of a cinema Citadele Plaza or at a tram stop, that on street Kr. Baron.
Employees of the Riga municipal police regularly prescribed to the violator of the protocols, but he only mocks the guardians of order. Perhaps the feeling of impunity is reinforced by the fact that cars can go on the license plates of Lithuania, the rights are also issued in Lithuania. Issued in Latvia the rights to the name of the terminal were cancelled at the end of September 2014, because he traded them after the rights have expired.
As previously reported, on the night of 25 April in the underground Parking of the residential complex Skanstes virsotnes burned exclusive cars such as Lamborghini Murcielago and Lamborghini Gallardo Spyder.
As noted in the press center of Riga regional police Department, information about the fire in the house on Skanstes street entered the remote duty at 01.35. In addition to Lamborghini the fire also damaged a Toyota Land Cruiser.
According to the facts police initiated criminal proceedings for attempted arson or damage to another's property.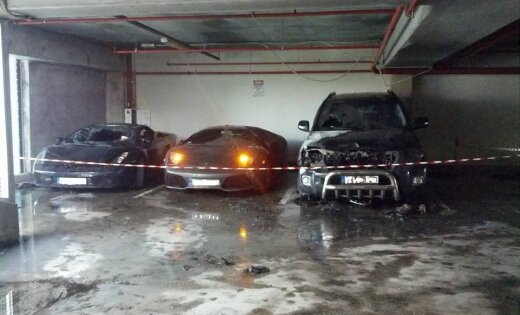 Foto: foto Aculiecinieka