Following the film "Liquidation" actor Sergey Makovetsky called Odessa and said: thank you for being so articulate. After the film "Pop" the familiar father claimed, not a priest, but very cool. The role of Chikatilo, the actor refused to play, fearing to do it so convincingly that the audience will love the beast...
A conversation with Makovetsky happened on the day of the Riga premiere of his native theatre. Vakhtangov "smile at us, o Lord" at the play-the parable of Grigory Kanovich about the way elderly Jews in Vilnius, where the son of one of them (the hero Makovetsky) attempt on the life of the Governor-General. The actor confessed that to think about anything else it is now difficult, but to talk about the play — not easier, afraid to splatter.
- Director of the performance "smile at us, o Lord!" Rimas Tuminas has called the statement as a response to "the chaos of the world in which we all just hostages in a political and financial game"... do you have the feeling of a hostage, pawns?
- No, a pawn I do not feel. But I find it hard to understand how I'll determine your fate. Most likely, my life goes on the good old principle of "man proposes — God disposes". About financial-political games I generally try not to think, and more inward-looking.
When I was faced with the material of this play, she just did not like me. But I did not do hasty conclusions — opened the work of Kanovich and began to read. The Director was originally offered a different role — a bankrupt grocer of Avner Rosenthal (played by Viktor Sukhorukov), but I was hooked in the novel another character — Efraim. Wanted to play the silent man, who all his life communicates with the stones in the cemetery. Was wondering what the sound comes out from the insides of my silent growl, rattle, hiss? For such people is very curious to observe. They are silent, silent, but, when people start to shout, the whole world turns. The person who is associated with death, sure knows a lot about life.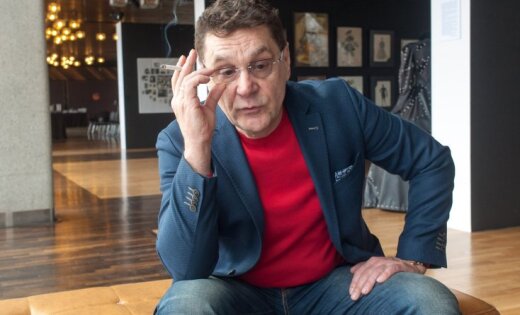 Photo: Maris Morkans
- And what is your relationship with death?
- I must tell you that I have been in many plays and films died. For example, when I was playing Prince Alexei, I choked, and in the film "Makarov" I shoot... fortunately, only on the stage of the dead come to the bows, and I love it.
- How easy was you a Jewish theme in which you have so masterfully immersed in the "liquidation" of playing Fima-poluzhid? Is there anything in your surroundings people who helped to comprehend the unique flavor, the dialect, the humor, the wisdom?
- Believe me, I do not understand what a Jewish theme! Of course, the ears, the actor opened, and he absorbs from everywhere, sometimes without realizing it. But in this production no so-called Jewish flavor there. And Rimas us from Putin strongly warned against this: "Comrades, we're not Jews!" We play people. And about any flavor of the question. Even in Odessa there is such a pronounced flavor — everything is soft. And as soon as it starts colouring it, sorry, not the Jews.
Of course, when you face Israel, you realize that it's a different world. I have this country is monstrous respect their patience, labor. When you realize that each tree, Bush and blade of grass there is a man-made, is brought to each tube of the irrigation system, and thus planted the whole of the hills — you just feel how much work, sweat, blood shed these people, how much they've been through...
But again, I'm not an expert on the Jewish question — I play the person, not interested in what nationality he was. It is much more important, what's going on in his head and soul, and that the character found a response in me — personal nuances, the pain and the memories. I'm just a very good actor who knows how to convey the image. Although, of course, I know that, having come to the cemetery, my Efraim puts the grave stone and not flowers — it is by the number of stones is determined by the number of people who came to visit the grave. Remember the Grand picture "Schindler's List": a survivor thanks to this man people come to his grave and put the stones — fantastic ending.
If you remember the role of the Fima-poluzhid of "Liquidation", it demanded the right melody of speech, the exact Odessa a conversation, not Hecate or shock. It was nice when after the premiere was called Odessa, and said thank you, you are very articulate.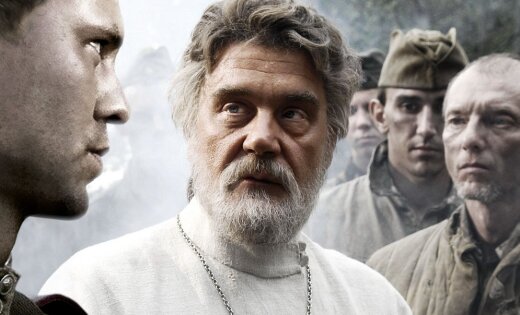 Photo: Kadrs no filmas
- You played a priest in the movie Hotinenko "Pop," which was partly filmed in Riga. Archpriest Georgy Mitrofanov, calling this role your acting success, noted that modern "actors are difficult to get in the way of a priest, and it speaks to how deeply secularized our society — the experience with the priests in the vast majority of actors are simply missing"...
- I was pleased to hear a good response from the Orthodox priests about this role, to which I went very carefully and cautiously. It's not easy to play a cleric, and the real story of a real person, which I hope is still alive. By the way, Alexander's father lives here not far from Riga. When we are three or four years ago there were, I wanted him to come, but he was unwell — has not happened.
I knew that for this role have a lot to know, feel, and even just to be able to. To correctly pronounce the words, just move on, so Nina and usatovoy who played the mother, is an incredibly neat fit to each frame and the word. Our consultant was a great Abbot Cyril, the Abbot of the temple in Moscow. We did not pitch. I asked: sir, dare whether my father Alexander say so? I was afraid that the step to the right is a caricature, step left — molasses and the sweetness that nobody would believe it. We seem to share naturally. And I rejoiced when the familiar priest said, not a priest, but very cool!
- Changed if this role is something in the attitude?
- Are you trying to look deep into my soul, and I don't want to flaunt it. Yes, and to explain such a change words is incorrect. Still leave something untouched and deeply his.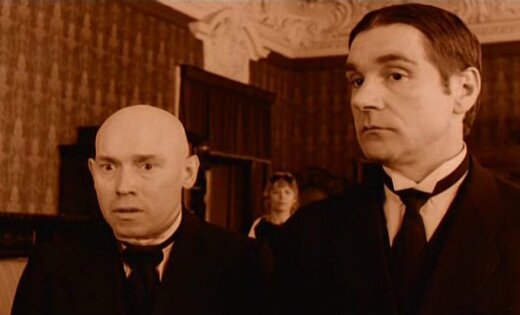 Photo: Kadrs no filmas
Frame from the film by Alexei Balabanov of freaks and men", in which Makovetsky convincingly played a pornographer Johann.
- On what principle do you agree or disagree on the role? Why did you come to play the role of a child pornographer Johann from Balabanov's film "About freaks and people", and offered you the role Chikatilo — no?
- Because fantasy is much deeper than knowledge. I for myself have identified, and then also heard so said Einstein. Well, what use is it to know that two and two make four? When you don't know the character and fantasize about him, you can pretty much open yourself. And when you know a particular individual and know exactly what he did in this life, then why play it and why to promote? It's going to have the life to survive and to somehow justify for yourself! If I won't feel anything, then the audience won't understand and will not feel, and did not love my character.
- And you can't play hating?
- Of course! Nothing will work if you play a character, internally despising him. It is just evil a boy or a girl on stage or on the screen(s) someone is angry. In order to play a character, you have somehow become one — in fact, the complexity. And how can you justify some of the things that don't find excuses? And why play the monster, so what?..
- To give birth to it disgust!
- But if you will be so convincing that the audience will love him? And God forbid, there will be followers. There are historical figures, the more you know, the less desire to play them. Knowledge stops, and fantasy moves forward. For example, I could not fully understand it, Johann, what he was talking about the Alex Balabanov. He replied: we will move gradually from frame to frame. The way he looks, says, what pause does, more, more... And my fantasy starting to be born: he that retarded, hard of hearing or consciously attaches itself weight?
- You feel responsible for their characters? Because they are people, if not provoke aggression?
- In thinking about this topic every time I remember "Salo, or the 120 days of Sodom" Pasolini is a very terrible picture. There are scenes that are impossible to watch. The Director did this deliberately to show the horrors of fascism. And Alexei Balabanov also knew how to do it — with a large number of images and associations: he was shooting hard of the picture, but did not relish cruelty, he is very accurately determined and showed the pain points, but not probed at the wound, not thrust into her fingers with voluptuousness of sadist. He definitely felt what lines he cannot cross. Therefore, all his paintings are tough but not cruel..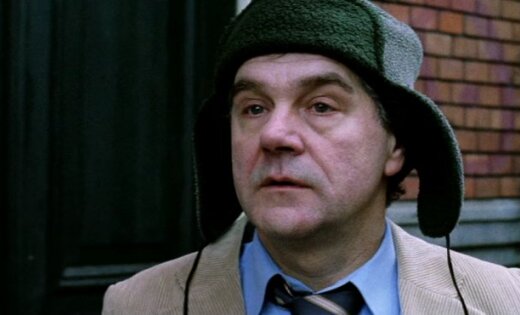 Photo: Kadrs no filmas
- You played a major role in the film "Darling" by the famous Dutch Director Jos Stelling. He called the theme of the painting collision of the European and Russian rational soul, he said, "Bob, like every Dutchman, it seems that he knows how. But in fact he knows nothing, is possessed by the complexes and phobias..." I Think it accurately translates the relations of Russia and Europe, though the film was filmed, when visible was not a problem.
- I am incredibly happy that we met with Jos and did two paintings — "Ducky", and then "the Girl and death". Incredibly well we work together, even a special transfer was not required — we have each other felt. And no difference — neither in language nor in mentality. So the topic of the differences of Europe and Russia, I was not asked — there was no reason, because I felt completely comfortable. I walked into the frame and immediately began to move so in the right direction that Jos has ceased to correct me.

*