The title of winner of the month 2409 votes to Didzis provided a popular vote on the home page www.maksimalisti.lv. After winning the competition Didzis invited to try out their hobby mastermind category of individuals contest "Maximalists", the leader of "Ghetto Games" – Raymond Elbakyan.
When meeting Didzis with Raymond greet each other like old friends, and not by accident – talented racer and leader of the "Ghetto Games" Raymond have long been familiar, as Didzis is also one of the athletes "Ghetto Games". Didzis shows Raymond basic principles the stunt, and the lesson can begin.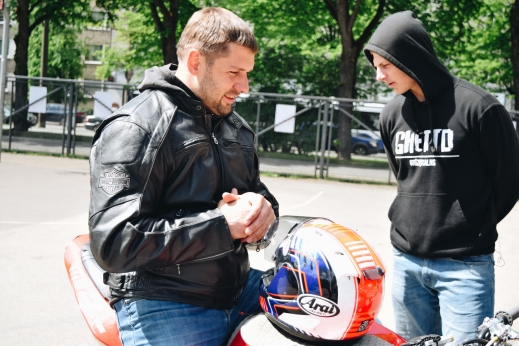 To do the stunt you have to be a little crazy
Didzis says that passion the stunt riding started four years ago, when a young man tried out this sport and realized that he wanted to do it in the future. "Stunt riding is performing tricks on a street bike. In order to do this, it is necessary to slightly alter the street bike by installing the additional brake and other small nuances. When it was done, only thing left is to practice and learn tricks," says Didzis.
"It seems to me that if a guy is able to qualitatively "statyti" on a motorcycle, it is very, I don't know, manly, but definitely "badass". It fit so real guys – the bullies that can grow real men. It seems to me that to operate a motorcycle on a qualitative level is very courageous," says Raymond about the hobby of Dizisi, adding that to do the stunt riding you have to be a little crazy and needs to be strong commitment to this activity. This hobby requires a lot of time – the athlete must be both mechanic and driver, and a stunt that very difficult.
"I, of course, still have such a boyish dream to learn to ride a motorcycle on one wheel. In my childhood I was trained on the BMX bike I rode very easily on one wheel as it should," about his desire to try out the Moto-stunts on one wheel says Raymond. The hardest Raymond seemed to overcome the internal fear that the bike can fall and get serious injuries.
Didzis recognizes that thought Raymond drive on one wheel you'll get better, but it's reassuring that for the first time turned out well, and if Raymond will be quite persistent and practice, you will succeed.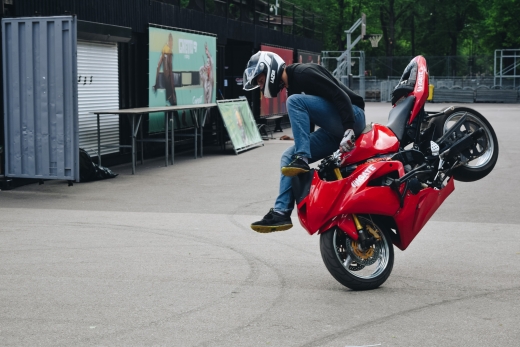 No time to deal with nonsense
Didzis recognizes that hobby takes all my free time talented guy. "I have regular exercise, I don't have time for any, that is to say, stupidity. I think all the time about new tricks, I think about the competition, preparing for it, I have things to do. Everything I do, by and large, is a motorcycle. My whole life is on a motorcycle," says the athlete on return to his hobby. Didzis recognizes that a young person is very important to find something that captivates because it is important to find a case that appeals to the heart, then there will be time to deal with minor cases and all sorts of stuff.
For the contest "Maximalists" Didzis decided to apply to be able better to realize their hobby. "My levels increased slightly, and competition "Maximalists" I quite helped, because the support I really use for training and for the purchase of fuel, and also to cover the cost of fixing my bike. This year I plan to participate in the competitions of the European level and become a TOP racer," says Didzis about his motivation to take part in the competition and plans for the future.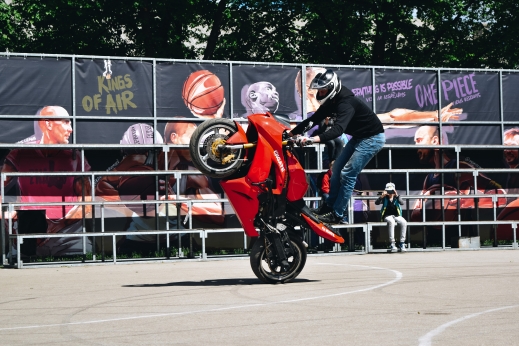 Competition "Maximalists" is an initiative of the support provided by the company "Maxima Latvija", which this year began on 9 January 2017года. The total prize Fund is 22 000 Euro.
Every month, starting from February 1 to June 29, individuals have the opportunity to receive support in the amount of 500 EUR, the families of 1,000 EUR, and the collectives – 1500 EUR. In turn, claiming the Grand Prix, the winners in each category receiving the highest number of votes, will receive 1000 EUR 2000 EUR 3000 EUR. The event on the closure of the competition will be held on 30 June, when will be awarded to the recipients of support in the last month, and the recipients of the "Grand Prix" prize employees "Maxima Latvija".

More news in the same category:
More Global News:
11:37 am on Thursday 19th October 2017

/ All News

Latvian weightlifter Retvar Sukharev became the champion of Europe among juniors till 20 years in weight category to 77 kg. the sum of the two exercises — snatch and clean and jerk — he scored 333 (154 179) kg and brought Latvia's second gold medal in Albania the competition.

11:37 am on Thursday 19th October 2017

/ All News

Latvian weightlifter Retvar Sukharev became the champion of Europe among juniors till 20 years in weight category to 77 kg. the sum of the two exercises — snatch and clean and jerk — he scored 333 kg and brought Latvia's second gold medal in the championship of Albania.

11:28 am on Thursday 19th October 2017

/ All News

&quot
​