Garantija Plus offers two services: "extended warranty" and "damage" for your electronics. Let's take a closer look.

Extended warranty? What it is?

Any device, from phones to TVs or washing machine and refrigerator for sale with warranty (standard warranty — two years to a private person, and one legal).
The lifespan of most devices more: what is the standard warranty period. And, of course, failure often happens when the warranty is over... It is therefore beneficial to contact the Garantija Plus. It is the only company in Latvia that allows you to increase the warranty period to three, four or five years. And no matter what store you bought your device!
Someone pays for the warranty extension?

In short — for everyone.
First, the repair of modern electronics often costs tons of money. TVs, laptops and in General, all electronics very "love" to fail immediately after the expiry of standard warranty.
Second, the standard repair phone, tablet, camera or laptop can take months. It's very frustrating, especially if you're equipment is a working tool that you use every day. The company Garantija Plus provides electronics repair in a week. And myself coming for your device at the address, takes it in for repair and brings you back.
In General, extended warranties is your parachute. If you have bought it you will have no need for.
Follow the link http://gplus.lv/a and find out the cost of a warranty extension on your favorite electronics.

How the extended warranty works in Latvia?


First, you need to go to the site http://gplus.lv/a. There, in a few clicks you can know whether your service Garantija Plus the manufacturer of your equipment (at this point in the list Apple, Samsung, Huawei, LG, Sony, Philips, Bosch, Acer, Asus, Electrolux, HP and other brands ), to obtain information about how much is it worth to buy extended warranty.
After purchase warranty courier brings you the warranty certificate. If your vehicle need repair, the courier will take it to service and bring back already repaired. All this is free.
Go ahead. What is "protection from damage"?


This is the second service offered by the company Garantija Plus. In the service of "protection from harm" are included all cases which under the standard warranty you will be denied repair: broken glass, spills, scratches and chips...
The most common example is broken glass smartphone and flooded the laptop keyboard. With "proof" from Garantija Plus you can save hundreds of euros on the repair of their vehicles — and sleep well.
Follow the link www.gplus.lv/p and find out the cost of protection against damage to your device!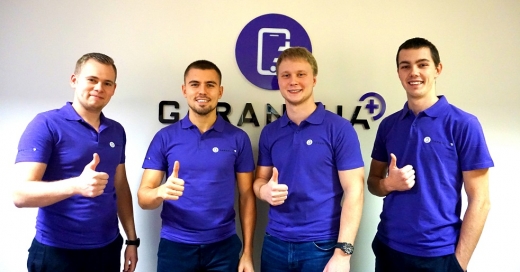 OK. And you can extend the warranty or to protect themselves from damage if I buy used equipment?

Not a problem. What matters is that you were acting official guarantee of the manufacturer or seller (such as store or an online store), as well as the originals of the documents confirming the purchase (receipt, warranty certificate).
In General, this scheme can extend the warranty or purchase protection on all appliances and electronics: cell phones, TVs, laptops, tablets, cameras, washing machines, refrigerators, stoves, video game consoles, hoods and much, much more.
Do not buy the device twice, join Garantija Plus!
371 66064432
Brīvības gatve 224b