One of the most loved Soviet actors recently celebrated 83rd birthday. Basilashvili, like anyone else has always managed to combine an active shooting film, theatre and citizenship. It is difficult even to choose which of his roles you can call home in his mnogoseriynom cinespace: Buzykin from "Autumn marathon", Samohvalov from "Office romance", Ryabinin from "Station for two," Voland from "Masters and margaritas"... At the time Eldar Ryazanov was so fascinated by the gift of the actor, which gave him the receipt to take in all his paintings. To work together it doesn't always work, but friendly they were to the last.
At the same time Oleg Valerianovich has never stood aloof from social processes — in the ' 90s was a member, was friends with Anatoly Sobchak, then supported the nomination of politicians who seemed to him promising now not afraid to speak out on any important event in the country. The actor particularly warm winter in which he first arrived in the 45th, and subsequently fought for her determination.
- To Riga you are bringing one-man show "Reflections" - what would it be?
- This will be a confidential conversation with the audience about the present that is our life, so you can rejoice, and which must be resisted. With the prose and poetry of Pasternak, Brodsky, Pushkin, Mayakovsky, Yevtushenko, zhvanetskogo and many others. The audience can feel free to contact me with questions — I will answer if I can.
- Traditional question: your life was somehow connected with Latvia?
- Very! The first time I was in Riga in 1945 with my mother. There was organized the rest House of the Moscow city pedagogical Institute. In fact, it was a pure Scam — there is no rest Home was not found, and we attributed to some resort in Maiori.
Riga, I remember a lot of the lacquered horse-drawn carriage at the station, with coachmen in top hats and long, sticking up whips. Around town was the naval patrols. And everywhere we went, stood empty, abandoned by the inhabitants of the villas — with utensils, furniture and all belongings... All this made me, an 11 year old boy, an impression! I love this city with all my heart... I then I was often in Latvia — there were tours and filming. For example, in Riga we Dvorzhetsky and Canevin starred in "the Return "of St. Luke" (1970).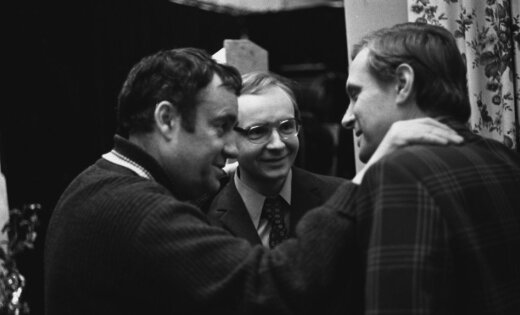 Foto: Sputnik/Scanpix/LETA
Photo: Eldar Ryazanov, with Andrey Myagkov, Oleg Basilashvili.
- This summer was waiting for you in Jurmala in the night of memory Ryazanov. But somehow to Riga reached only the widow of his movies Svetlana Nemolyaeva, Irina Mazurkiewicz, Barbara Brylska... If you went, about any aspects of your work and friendship with Ryazanov you would have remembered?
- All, with great pleasure. Eldar is a very big part of my life! And I will be happy to tell residents about all the joint works with Eldar. Including latest — picture "Prediction" with French actress Irene Jacob, who is very dear to me. During the joint work with Eldar we became good friends. In the last years of his life I from time to time came to visit him out of the city. We had a very interesting and emotional conversations. Today I miss him very much. I think not only me.
- How about the remakes of the same riasanovsky and other good-old paintings?
- Bad. Directors needs to have their head on their shoulders and do today's movies. Remakes are always much worse and untalented originals.
- In this case, you starred in "Carnival night-2"...
- Yes, I did. And I think this is very bad.
- In an interview with Delfi Kirill Serebryannikov expressed the view that Christmas Comedy of Ryazanov "Irony of fate or With light steam" was so good that, coupled with the project "Old songs about the main thing" plunged the country into a long period of retrovirii. Celebrating the New year with "irony", Olivier and jellied fish, people are nostalgic for the old days and don't want to live in the present and look to the future. What will you say?
- As everyone knows, I was supposed to play the role of Hippolytus in "twist of fate" (photo of Hippolytus, which drops from the window — the image Basilashvili, not Yakovlev, approx. Ed.) but it didn't happen - I then my father died, and I refused. And yet I strongly disagree with the opinion of Cyril. In Ryazanov's films, as in many other Soviet films, was the call to goodness. People tried to show that life is beautiful and it has much to do it. Yes, that plagues our lives what we fight and what we must overcome, they also needed. But I never would call the desire to do good by necrofilia.
Can't judge a theatrical work of Cyril (only saw one play), but his films are definitely very talented, everyone was involved in the concept of evil and dip into the aura of hopelessness - since "playing the victim" and ending with "Martyr." The Director has the right to do so. And the popularity of these films explained - it is a natural reaction for many years of enforced censorship. But to turn all art into lessons of evil is not quite correct. I am sure that our life is not only evil, but a lot of good by which to Orient people. Evil is the inevitability of our lives, but it is something that must be overcome in the name of humanity.
If you look in the world cultural space, in the centuries and often leave things, calling for light, kindness and understanding — and in cinema, in theater, in painting and in literature. Starting with "the Odyssey" and the gospel. Take the "don Quixote", "Eugene Onegin", "the divine Comedy", Faulkner, Dovlatov, many Soviet writers, I am sure that Latvian is preserved such.
- How do you feel about what is happening around Kirill Serebrennikov?
- And what he is accused of?
- Theft is actually...
- So he stole or not? If we do not know exactly, how can you judge!? I think it is unlikely he stole something. Maybe there were some violations of the bookkeeping, but maybe not — I'm not ready to talk. But ready to resent the money that was applied to Cyril — it's disgusting: cage, night transportation in Moscow, the arrest of colleagues, disconnecting the phones, the desire to intimidate... Why?
If the person suspected of the violation of the law, not only each of us — from the President to the last homeless person - must obey the law, but the law must be done... legally. Not one to scare less, another more, and the crimes of the third — at all do not notice. This particular outrage against which I stand.
- Do you remember when the famous meeting with Putin in 2006 (where Shevchuk as the "Jura-musician"), I regret that something is not voiced, against something not made?
- No. I took the floor immediately after Yura said that fully support it. Even offered to give examples of the indifference of the authorities to the laws which we obey, and said that it will end very badly. All this I said in the face of me the distinguished President of Russia. I don't regret anything.
- The policy in your life what is?
- Now - no! At the time I was elected and did everything he could to change the political and economic system that has brought our country to ruin. I clearly understood that to live as we lived longer. And certainly you cannot continue to rape the country who wanted to escape from the oppression of the so-called Communist parties.
We did everything possible to live differently and achieved a lot. But of course, the leap from so-called socialism (which never happened to our country) into a new society is a pirouette. Over a matter of years it won't. We decided that this is not the work of Amateurs like us, and transferred the case to those who are deeply knowledgeable in the political sense...
- Happened to pass?
- And that's you answer, as a resident and very friendly my favorite neighboring country of Latvia. I myself am inside this question can not answer.
- By the way, our friendly Lithuania Georgia has now decided to call Sakartvelo. You, as the Georgians that I think about it?
- Here we must ask how Georgia relates to this. I'm a citizen of the Russian Federation. I have no answer to this question.
- To finish with politics, can't help but wonder, how did you react to the nomination for the post of the President of Russia Ksenia Sobchak, whose father you were very close?
- No comments.
- In Latvia recently hosted the Dalai Lama, with whom you are of the age. Let me ask you the questions that playwright Ivan Vyrypaev and musician Boris Grebenshchikov asked him?
- Let's!
- Were you able to determine for themselves what the meaning of life?
- Yet.
- Are there questions that you still would like to get answers?
- Of course. There are so many that to enumerate would require a day. In particular I would like to understand what is the meaning of life.
- The question Grebenshchikov: where in people today much aggression?
- From poor living conditions. And from the fact that, in addition to good, a person lies and a lot of bad qualities. For example, greed and envy. I've often wondered why most all light heads — Pushkin, Tsvetaeva, Mayakovsky, Lermontov, Yesenin — he ended his life so tragically? And came to the following conclusion: people do not suffer those who are his height accentuates their earthiness, and try in all ways such bright minds to destroy and lime.
- To end on a positive note, tell me what pleases you today?
- My family. My grandchildren: Marinika - ninth year, and Timothy - was four. I'm glad they live in a more or less free country, get rid of the fear of the many prohibitions that had existed before. In this respect