The series of articles "Latvija var!" portal Delfi dedicated enterprising people in the Latvian business, whose ideas become the innovative products win export markets or the hearts of the customers in Latvia. The project was created in cooperation with DNB.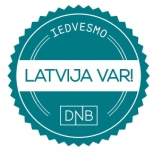 The origins of the enterprise are for 1997, when it was created by OOO DPA, which is now included in the DPA dgira. In 2015, the group has split its activities in two directions. In January last year as a result of the rebranding of DPA became Squalio, the main direction of which — software licensing and cloud computing (cloud computing). Was created Squalio Cloud Consulting, providing systems of high technology and business management.
Now the IT market has changed, when compared with the attitudes of the 1990s and early 2000s. says Board member and co-owner of the enterprise Sandis has Kolomenskis, to a large extent the rules of the game dictate the industry's "big players", including Microsoft, Google, Amazon.
"Piece goods, when we bought a box of the license or the CD with the software for a long time in the past. The software is now often impossible to buy this way. Now everything is more or less known with a such taste." So Squalio offers customers payment model is software licensing, which can be compared, for example, a subscription mobile phone or television, that is the software is paid a monthly fee. Also Squalio created a self-service platform place365.lv, where entrepreneurs can purchase the software and receive the consultation of IT specialists.
The head of Accenture in Latvia Maxim Egorov admits: "Other local IT companies could learn from Squalio how to open foreign branches to not only work on the local market. Going abroad opens wider horizons and allows you to experience the breath of the world, because everything revolves only around us." According to him, Squalio is one of the largest Microsoft partners in the Baltic States.
Egorov said that in the world, including in Latvia, there are a number of examples of enterprises based on products from a major manufacturer to create custom solutions that are moving the market in cooperation with the manufacturer. "I wish the company to move deeper in this direction and not be afraid to experiment. An interesting direction of work Squalio — biometrics. In collaboration with artificial intelligence in the future this may lead to the creation of interesting projects and services", — says the head of Accenture in Latvia. He emphasizes that such enterprises as Squalio form the ecosystem, so it is important to invest in future development and education of the society.