The series of articles "Latvija var!" portal Delfi dedicated enterprising people in the Latvian business, whose ideas become the innovative products win export markets or the hearts of the customers in Latvia. The project was created in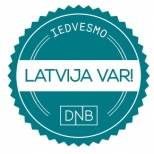 collaboration with DNB.
The founders met while working at the famous company of "Skype". This experience helped to create a company with a strong corporate culture. In turn high quality of work allows to compete with similar companies in other countries and keep its status as one of the strongest exporting companies in Latvia.
"TestDevLab" founded in 2011, the focus of work of the company — software testing, i.e. IT specialists test a variety of network services and applications, which are used in gadgets and in computers. The purpose of these tests is to establish how quality is software. Clients turn to "TestDevLab", for example, with your application to find out how reliable it is, how much energy the device consumes it, and that all functions perform as intended.
"Our primary service is testing of products. This includes manual functional testing on mobile devices, web applications or server-side 'back-end" applications, and automation tests. Write automated scripts that verify the functionality of an application, testing the reliability required to check the various types of vulnerability. We also do things like testing audio and video quality," says one of the founders of the enterprise Erwin Grinfelds.
The company also offers software development. Also the specialists of "TestDevLab" has created several custom applications, including assistant to filter "ad Notify.us" and a tool for automated testing "Apimation.com".
The growth of "TestDevLab" is impressive. Every year, significantly increasing turnover and number of employees. Last year the company's turnover reached about 3.1 million euros, which is 745 000 euros more than in 2015, when the turnover of the "TestDevLab" amounted to almost € 2.4 million.