The series of articles "Latvija var!" portal Delfi dedicated enterprising people in the Latvian business, whose ideas become the innovative products win export markets or the hearts of the customers in Latvia. The project was created in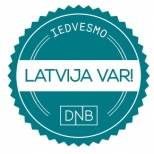 collaboration with DNB.
At the moment the only owner of the business, founded 23 years ago, is Janis Bumbulis. He was co-founder of "Irve". In 2014, Bumbulis bought all the share capital of the American Latvian Valdis Mainiacs. "He wanted to stop the business, but there's a lot invested, so I don't want," explains Bumbulis. According to him, to cooperate with MiniCAM was easy, the former partner is still interested in what's going on "Irve".
"In fact "Irve" lives so long because it is not only one narrow service. We have three main areas, and around a number of small services. Cleaning clothes or washing would not be enough, because this service is not too profitable. It requires a lot of work. And it's still manual labor. We have survived all these 23 years, as the services are separated. Three main are cleaning, Laundry and renting of clothes," says the founder.
The network "Irve" is 44 points in 20 cities of Latvia. Most of the points posted in partners, and eight are private items of the company. Overall this month the company provides the cleaning of about 30,000 units of clothing. For one working shift (12 hours) able to put in 12 tons of clothes.