The series of articles "Latvija var!" portal Delfi dedicated enterprising people in the Latvian business, whose ideas become the innovative products win export markets or the hearts of the customers in Latvia. The project was created in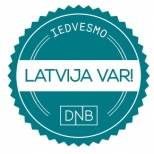 collaboration with DNB.
Understanding that must be available at refueling, over time, has changed markedly. If ever there was a major fuel, but now clients have to offer food, drinks and trivia, which can be useful in long and short trips, but still clean and nice restrooms, which is nothing hidden that are the hallmark of good gas. Control emphasizes that this is given special attention.
Thinking about filling stations in Latvia, in the head immediately raises several brands. Executive Director of "Virši–A" proves — the competition is sharp. However, he evaluates it positively, because the conditions forced us to set concrete goals. In the past year, the company sold approximately 140 million liters of fuel, which is 25% higher compared to year 2015.
"If you look at the growth, I would say that we were very balanced. Of course, in Riga we are growing faster, because here we have historically had only two stations, and now the number of stations in Riga and near Riga exceeds a dozen," he says. This year the management of "Virši–A" wants to achieve at least the same height. The company also will continue to develop in the framework of the new concept.

1. Latvia can! Not being afraid of change, a network of filling stations significantly increases turnover
2. Fluctuations in fuel prices threat does not create
3. A new concept
4. Dozens of applications for jobs
5. The profit is in the details