The series of articles "Latvija var!" portal Delfi dedicated enterprising people in the Latvian business, whose ideas become the innovative products win export markets or the hearts of the customers in Latvia. The project was created in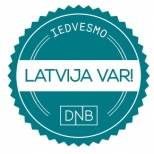 collaboration with DNB.
Last year "Art Fairs Service" established an exhibition area of 24 000 m2. In General, the company served 19 events in nine European countries. This year we have already signed contracts about 30 exhibitions in 12 countries. "It's growing. 30 exhibitions are more than two exhibitions per month. The business of art exhibitions have a pronounced seasonal pattern. Summer just less. But in August, September, October... Have to build three exhibitions at the same time," says Mellis. Last year the company's turnover exceeded 825 000 euros and a profit of 97 000 euros.
The company offers a wide range of services, but two main areas are the walls and the lighting. In the premises for the exhibitions "Art Fairs Service" places podiums, stands, the wall on which you are installing the creative work and provides the lighting. "We also offer sound security and additional lighting, the local device communication, the placement of works of art and their subsequent packaging after the sale. Many services — service, maintenance, technical assistance throughout the exhibition. These are things that they there [in the West] are not used, because no-one cares like we do. This allows us to enter the market with a service that is not cheaper, but better," says Mellis. The whole process in the course of the conversation he refers simply to the construction.
1. Brains in Riga and warehouse in Antwerp
2. High demand in the industry
3. Exhibitions in unusual spaces
4. Become a enterprise with which he would like to cooperate