The series of articles "Latvija var!" portal Delfi dedicated enterprising people in the Latvian business, whose ideas become the innovative products win export markets or the hearts of the customers in Latvia. The project was created in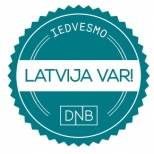 collaboration with DNB.
The first experiments with the "drink of the gods" owner "Abascal winery" Martins Barkans began in 2008. Then he home made wine from black currants. The idea of creating their own wine came to him during a honeymoon trip to Tuscany. When visiting small local wineries, Martins thought about how nice it would be to have their own vineyard and their wine. "I fell in love with the idea that rural life can be interesting, happy, full of taste and communication. If we could grow grapes and make wine. It was a crazy idea, that may be under the influx of feelings and romanticism, as it happens immediately after the wedding," recalls the winemaker.
The production of "Abovsky wines" located in a building area of 3000 square meters in Klavciems (Kampeska parish). In his time in this place was a factory of canned vegetables. At the time of purchase the building was in a poor state, but gradually it was restored and production began to use 1,500 square meters of premises. "If you had to build everything themselves, it would take millions of investment," says Balkans. He adds that the business first began in a closet for 30 square meters. This year it is planned to repair that part of the building, where according to the local legends, during the canning shop made homemade root beer. There will be equipped a shop, and guests will be able to get in front of the scenic road, leading through an Apple orchard.
1. Latvia can! Latvian wine even interested in Italians
2. The vineyard is a large experiment
3. The alcohol market in Latvia is in stagnation
4. The art of creating taste
5. Need a wide range of
6. A similar start for new business