The series of articles "Latvija var!" portal Delfi dedicated enterprising people in the Latvian business, whose ideas become the innovative products win export markets or the hearts of the customers in Latvia. The project was created in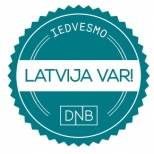 collaboration with DNB.
Factory "Sudrablīnis" hidden among the tall apartment buildings in Vecmilgravis. Nothing nearby suggests that in a brick building is a factory for fish processing. The company shares a building with a grocery store, which is located on the second floor. In turn, in the premises of the factory was once a cafe, a cooking workshop and warehouse.
"Sudrablīnis" is here since the founding in 2000. Now the production is located on the territory of 1200 square meters, the spacious, newly renovated premises. The Executive Director said that will be another extension. There will be an additional factory, since the available space is already fully engaged in the work.
"Our core business is the processing of caviar. We started Smoking. Now we are making cold smoked salmon. Gradually developing this area. Now it takes over a large part of exports," says Linis.
Last year the turnover of "Sudrablīnis" amounted to 1.6 million euros. On this occasion Executive Director says with a smile: "Always can be better".
1. Latvia can! How to create an Empire of caviar
2. A device of his own invention
3. Each calf your taste
4. 'Silver Fish'
5. Proper planning of investment brings long-term fruit