The series of articles "Latvija var!" the portal Delfi is dedicated enterprising people in the Latvian business, whose ideas become the innovative products win export markets or the hearts of the customers in Latvia. The project was created with sotrudnichestve DNB.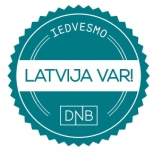 The company Printful, which is included into group of the enterprises Draugiem Group, recently celebrated its fourth birthday. At the moment most of the company's customers located in the United States, in the place where the founder and co-owner of the Draugiem Group of spheres of Liberti had the idea about this business. He recognizes that a good business idea followed a number of unsuccessful attempts to start a business overseas.
Now Printful — fastest-growing company of the group, whose turnover is increasing annually by about 50%. One of the major goals that Liberts hopes to implement in 2020, is the company's entry into the public stock market. "It could be mobilized. And for us it would be a completely new experience," he says, adding that to prepare for this difficult but, if successful, will be able to "see how to manage a public company".
1. Prices for posters in the US as an incentive to start a business
2. European production in Riga
3. At the end of the year work in full swing
4. Preparing for IPO*!