The series of articles "Latvija var!" portal Delfi dedicated enterprising people in the Latvian business, whose ideas become the innovative products win export markets or the hearts of the customers in Latvia. The project was created in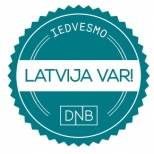 collaboration with DNB.
This week Grosbergs going to open a dairy shop in a former newspaper kiosk in Valmiera. To understand how to accommodate a small building for all requirements, it was necessary to thoroughly think about - and and the hosts themselves, and officials. At the kiosk you can buy various dairy products manufactured in Zilūži, including the most popular product — ice cream with caramel. "In fact, we take the grass to skip it through a cow and get ice cream," laughs the head of the firm, the trade and marketing Valts Grasberg.
Since 2004 the farm has implemented 14 projects with attraction of means of EU funds. Funding was invested in the construction of new buildings, and purchase equipment. Last year, according to Janis, was not too successful, mainly due to poor harvest. But this year weather conditions are more favorable, so the year should be completed with the best financial indicators.
The turnover of the farm Janis Grosbergs Zilūži located in Berzinskas parish, Valmiera region, last year amounted to 903 505 euros. At the moment it's a home production, but the family have been for some time preparing for the transition to the status of a renowned manufacturer. Grasberg hope it will be done before the end of the year.

1. Seven hectares and two cows
2. From grass to ice cream
3.
4. The most important aspects in the transition from home production to mass