The series of articles "Latvija var!" on Delfi is dedicated enterprising people in the Latvian business, whose ideas become the innovative products win export markets or the hearts of the customers in Latvia. The project was created with sotrudnichestve DNB.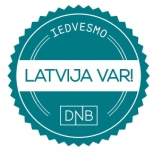 "Silu kudra" is not a plant for the extraction of bog peat. The company buys bulk material and manufactures of various peat substrates — mixtures, which are mainly used in horticulture. According to Retensa, the substrate can be sown and planted all kinds of plants. "It's used for gardening, because it is lightweight and organic. The plant may be a seed, and palm. Each year, the substrate need to update, repot the plant in a larger pot, use more substrate. In General, for each plant you can add the desired substrate," he says.
The company in 2006 created Ritenis and partners of German company "Stender AG". Then 50% of the share capital belonged to Ritenis, and the other half to the Germans. But two years ago, Ritenis at the expense of Bank loan of € 300,000 to buy out of a company's share, becoming sole owner. Last year the turnover of "Silu kudra" amounted to 2.2 million euros and a profit of more than € 33,000. Also last year opened a new packing plant, where many processes are automated, which speeds up the work.
1. In the business whole family
2. Colleagues ready to help
3. Attractive, but difficult "hobby market"
4. The diversity of end users – challenges and opportunities