The series of articles "Latvija var!" portal Delfi dedicated enterprising people in the Latvian business, whose ideas become the innovative products win export markets or the hearts of the customers in Latvia. The project was created in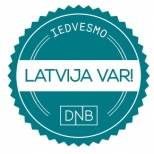 collaboration with DNB.
"Vaidava Ceramics" is a family business Balodis, which emerged even before the restoration of independence of Latvia. Think clay dishes Vydavy, if not held in hand, it is seen by almost everyone. However, now they are made only periodically, as a priority for the enterprise was the collection of designer tableware "Zeme". It symbolizes the new concept of enterprise is to return the pottery to the table of modern man.
The plant is located near Widawski lake, just a few minutes walk away. While the trees have not yet appeared, the leaves, the lake can be seen even from the territory of the enterprise. Widawska dishes made from Latvian red clay, which is extracted Liepach, about 30 km from the plant. Any widawski product passes through the hands of a master, so it is written — "handmade in Latvia" ("made in Latvia"). Now "Vaidava Ceramics" employs 15 people. However, in Vaidava is made not only tableware, but also flower pots, and at the time there were also made, for example, chandeliers and huge vases. Now on account of the company — about 100 products.
Last year the turnover of "Vaidava Ceramics" has reached almost 200 000 euros, but the Mix plans in the next three to four years to double this figure and to ensure that about 70% of production was exported. However, he stressed that the company is not going to turn into a huge factory, where utensils are made automatically. We are talking about the success of the family business, where they make the dishes "with history".
1. Latvia can! How and why family-run company supplies the clay in prestigious restaurants
2. The father came to restore order
3. "Pure clay and water"
4. The problem of recognition abroad
5. To adapt to the needs of the export market, respecting the Latvian tradition