The series of articles "Latvija var!" portal Delfi dedicated enterprising people in the Latvian business, whose ideas become the innovative products win export markets or the hearts of the customers in Latvia. The project was created in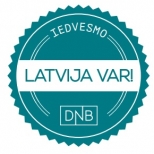 collaboration with DNB.
Over the years the company had many changes, we had to adapt to market trends. In 1993 Gercini was founded as a family enterprise for the cultivation and processing of fruit. In 2007, it retrained and engaged in the manufacture of equipment for the food industry. Metal parts for different devices made and welded the cooperation partners involved. In turn, Uldis and his son Ivar developed the "brains" of the equipment, or the controller that manages them. Created Gercini the controller has achieved international recognition in 2015 the company became one of the finalists for the "Prize of the national economy of Germany in Latvia".
However, now Gercini production equipment is no longer as focused on a new product — device energy monitoring G–Dog, where the coach sees a lot of potential. About the new device, he says with enthusiasm. The impression is that the greatest joy he brings to the process of product creation.
1. Latvia can! Gercini develops a unique "watchdog" for electricity
2. Experience in the development of devices
3. G-Dog interested in 'Latvenergo'
4. Smart guide
5. The added value is the desire to understand the specifics of local business and the ability to adapt the product