The series of articles "Latvija var!" portal Delfi dedicated enterprising people in the Latvian business, whose ideas become the innovative products win export markets or the hearts of the customers in Latvia. The project was created in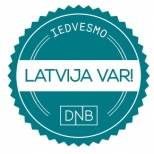 collaboration with DNB.
The founder and owner of "Blindsave" Andis Blinds — professional goalkeeper in floorball, and plays in Sweden. During his sports career he received many injuries that motivated to look for the most effective protection. According to him, it all started with the knee pads, "made from rags". But now the company, founded in 2012, offers a full set of protective gear for goalkeeping in floorball. Just appeared on the market also products for basketball players.