The series of articles "Latvija var!" portal Delfi dedicated enterprising people in the Latvian business, whose ideas become the innovative products win export markets or the hearts of the customers in Latvia. The project was created in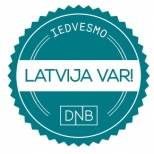 collaboration with DNB.
'Coo Culte' was founded in 2009. At first it was a hobby of the owner of the Ilona Hibbert. Now hobby into a profitable company, which employs 20 workers. According to Hibbert, although sometimes in the office have to spend 12 hours a day, work in joy. 'Coo Culte' produces women's clothes, but last year in test mode, customers were offered a children's clothing, which is not yet included in the permanent range. In turn, mens fashion workers 'Coo Culte' not yet paid enough attention. "Men's fashion is different," explains the hostess.
Clothes 'Coo Culte' uses lace, which is procured where to buy it world-famous brands "Valentino" and "Dolce &Gabbana", but the company is not working in the luxury segment, as its goal is to create a quality garment at a competitive price. Answering the question whether the production of clothing any company, which it perceives as an example, Hibbert laughs: "Who wouldn't want to be the local "Zara"?
More news in the same category:
More Global News:
2:14 pm on Friday 15th December 2017

/ All News

Latvian skeleton Martin Dukurs ninth time in succession became the champion of Europe. The championship was held at the Austrian track in Igls and at the same time was the fifth stage of the world Cup.

2:12 pm on Friday 15th December 2017

/ All News

On Friday, the Riga city Council adopted the budget for 2018. Consideration lasted 17 hours, opposition deputies asked the 538 questions, none of the proposals of the opposition was not accepted. Delfi briefly summarizes information about how the budget is eventually approved by the deputies of RD.

1:56 pm on Friday 15th December 2017

/ All News

FSB prevented a terrorist attack in St. Petersburg, supporters &quot
​