The series of articles "Latvija var!" on Delfi is dedicated enterprising people in the Latvian business, whose ideas become the innovative products win export markets or the hearts of the customers in Latvia. The project was created with sotrudnichestve DNB.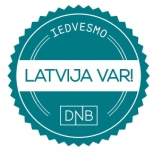 "Dižozols plus" in 1993, he founded Plakans, who just graduated from Riga State technical school. Then the enterprise was in ikšķile and made furniture for individual orders for the local market. But with the beginning of the crisis Plakans took, in his words, "a spontaneous decision" to purchase the device belonging to the liquidated company "Latvijas bērzs" company "Latvijas finieris". Plakans bought equipment together with the current partner Rudzitis, who has previously worked on "Latvijas bērzs". "There was a big crisis, when major enterprises were closed, including the company from whom we bought raw materials, parts, components, wood. A couple of years, we have had good cooperation... Once they announced that they were closed. It was a spontaneous and quick decision — to buy their equipment and continue to do it. Then we teamed up with Gatis. Since we are owners, managers, authors of decisions," says Plakas.
"Here we started with seven people. It was already nine years ago. It is now 143 people. We started with an area of just over 1000 m2. Shot of the room. Now it is 9000 m2 under roof, and it's our property," says Plakas. The main direction of work "Dižozols plus" products with parts made of curved wood. "Basically, all of this is due to the chairs. This details of the chairs, which are equipped with metal and soft elements, and the finished chairs," — said roditis. The company continues to produce furniture on individual order. This daily deal 25 people. This furniture is about 10% of the turnover of the enterprise.
Last year the turnover of "Dižozols plus" amounted to more than € 5.8 million, and the profit is nearly 404 000. When this development has been invested 1,5 million euros. Rudzitis explains that it is difficult to predict when investment in construction of the plant or infrastructure improvements. These are not the improvements that "make money". But when visiting the factory it becomes clear why various of the press and accessories should be placed on a convenient shelf, and not "stand on the floor, pressed against each other".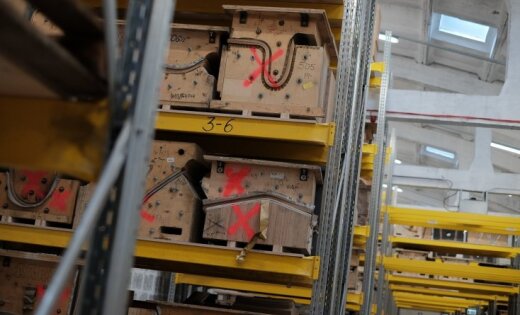 Foto: Kārlis Dambrāns, DELFI
"Hats off to these guys," says Plakans and Rudzitis former Executive Director of the Association "Latvijas mēbeles" Andris Plezers. "Over the years they have substantially increased all production," he says. Pleasers, says that the production of parts made of curved wood — technologically a very complex process that draws not all manufacturers. ""Dižozols plus" — one of the two leading companies in Latvia," says Plezers, adding that the main competitors of the Latvian manufacturers — Polish company. "The competition is very big, but at the expense of labor, quality, timely delivery... believe Them," he Pleters.