The series of articles "Latvija var!" portal Delfi dedicated enterprising people in the Latvian business, whose ideas become the innovative products win export markets or the hearts of the customers in Latvia. The project was created in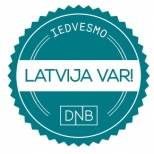 collaboration with DNB.
"MGS Factory" is a family business at the helm of which are Marek and Sanita Giptere. Marek is responsible for the production and the technical side of the enterprise. In turn Sanita for marketing, logistics and communication. The company was founded seven years ago. Now its products available in Germany, Switzerland, Austria, Greece, the UK and the Netherlands. And very soon running bikes "Dip Dap" will be available also in Lithuania and Estonia.
One of the alleged export markets of the company — Russia, but to organize cooperation with its Eastern neighbor is quite difficult. "There we had a long discussion. The interest is there, but the deal is still not happening. Russia is a special market. Today people agree, and tomorrow he says — he changed his mind. In other markets... Perhaps the product turned out quite cute, it somehow affects. The main discussion about volume and balance of prices in relation to the quantity ordered," explains Marek. Now about 30% of production is exported.