The series of articles "Latvija var!" portal Delfi dedicated enterprising people in the Latvian business, whose ideas become the innovative products win export markets or the hearts of the customers in Latvia. The project was created in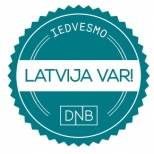 collaboration with DNB.
Another success factor is the ability of the founders, brothers Lasmanisa, clear division of responsibilities. Erwin is responsible for financial Affairs, and the hunter follows the production. Last year the turnover of LTD "Zemgus LB" amounted to more than 2.5 million euros and a profit of over 54,000 euros. According to Erwin, the past year has been "braking". "We were better than the rest, but could be even better," he said, noting that the company should grow at least 15%.
85% products "Zemgus" is sold in the local market, but future plans are connected with the conquest of export markets. At the moment the team "Zemgus" sales, which will directly contact customers without using intermediaries. "We create our own sales Department. We realized that, of course, the manufacturer always earns on bread and sausage, but if you want a thicker layer of oil, after all it is necessary to communicate with the client directly and not through someone who takes all the cream, and you're left with a dry residue" — said Erwin.
1. To increase the production of packages
2. The distribution of responsibilities and passion
3. The futility of public procurement
4. Why some of them succeed and others do not