1. oennaya force. Dynamics, courage and self-confidence characterize the spring-summer fashion. Style "military" creates the image of a strong and enterprising women. Jackets and skirts can be combined with sport shoes, providing extra comfort in everyday rapid pace. Handbag as one of the most important accessories, have retained the awkwardness of the previous autumn-winter season. The small size makes it possible to take only the most necessary.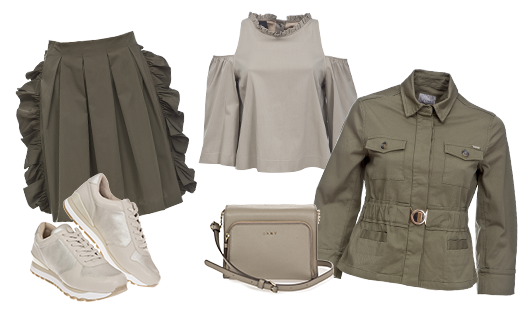 Svārki PINKO 279.99 €. Blūze PINKO 229.99 €. Apavi DKNY 249.99 €. Soma DKNY 199.99 €. Jaka GUESS 145.99 €.
2. Eelegantnosti "Safari". The Safari style can be bright and noticeable, if you use this style all the parts in the kit, and can be subtle, a slight accent. Backpack actual metal colors to free his hands. Trench coat with buttons in two rows, bleached jeans, loose blouse and platform shoes will generate the fashionable set for 2017.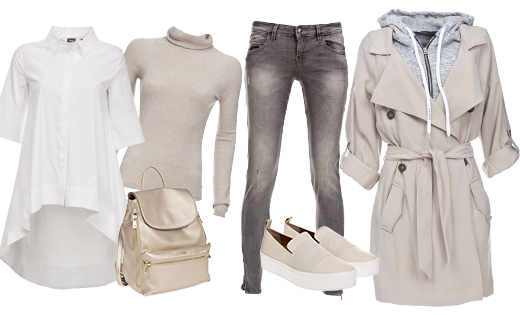 Krekls EMME 95.99 €. Džemperis VIOLA STILS 109.99 €. Džinsi GUESS 109.99 €. Lietus mētelis GUESS 189.99 €. Mugursoma GUESS 139.99 €. Apavi CK 169.99 €.
3. Sportivny chic. The sporty look has become a sophisticated street style. Pants-skirt/shorts combined with elegant athletic shoes and handbags will be a great set to feel comfortable and feminine at the same time. Pastel colors, especially pink and grey, give a feeling of freshness and lightness.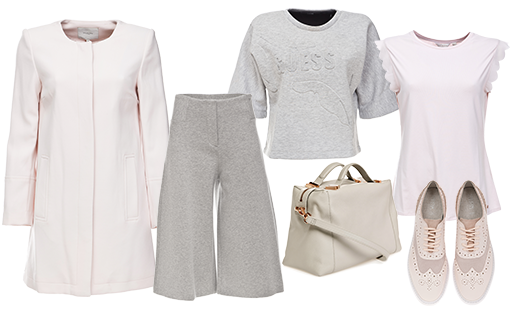 Pusmētelis SELECTED 139.99 €. Bikses ARMANI 229.99 €. Flīša džemperis GUESS 79.99 €. TED BAKER Tops 65.99 €. Soma TED BAKER 349.99 €. Sporta apavi GEOX 125.99 €.
4. Denim trend. Jeans continues its winning streak this season. Combining it with other relevant details, creates creative and modern way. Spring new — now all the elements of the image can be of the same material, color and style. So I can safely wear jeans with a shirt, jacket, bag, shoes and even a hat made from denim. To add a "twist", further it is asymmetrical, sheer and embroidered details.
Krekls G-STAR 109.99 €. Kombinezons PEPE 165.99 €. Flīša džemperis G-STAR 99.99 €. Džinsu jaka PEPE 139.99 €. Apavi CK 119.99 €. Soma GUESS 169.99 €.
Better shopping can be pleasure from shopping, therefore surrender to the femininity and the latest fashion trends from popular brands of clothing and shoes. The new collection is already in the Department store ELKOR PLAZA!
Look at the new spring collection and get inspired by to buy here: https://www.elkor.lv/