In photos of Zalman Shklyar architectural geometrism is inseparable intertwined with psychology and uncovering human emotions, so the pictures come out multi-level — every photo tells a story, but like the movie with an open ending that always leaves the viewer room for imagination. Pictures Shklyar has been repeatedly awarded the world masters of photography — bill Rauhauser (Bill Rauhauser), Georgy Pinkhassov (Gueorgui Pinkhassov), Palha Rui (Rui Palha), as well as famous art critic max Kozlov (Max Kozloff) and other.
Here's a selection of unusually deep frames of Zalman Shklyar and eleven quotations from an interview with him.
"As a religious Jew, I study the commandments of the Torah and live according to them. The world of photography I discovered through this book. I photographed, so as to affect our fragile world is to reveal its beauty to others. For me photography is a way not only of expression but also a tool for the disclosure of Holiness. We must protect this world. Even if an outsider were to look at my photos and horrified, he might want to change something within yourself".
"Today people walk the streets, absorbed in their tablets and phones, skipping past so many beautiful moments.8.* Street photographers concerned with what "cling" shots which are never destined to repeat itself. But the moment you need not only to notice — in order to fully commit, it is necessary first of all to understand".
"An experienced photographer feels the time, anticipating the shot. Someone thinks it is luck, I think it's a gift from above. The camera captures only what it sees. It's not what you photograph but a professional photographer must technically know your camera from A to z, because you may not even be a fraction of a second to fix something. Hand should be on the camera, like a musician on the piano keys".
"I have no staged shots. Them in street photography generally should not be. Yes, the photographer can orchestrate certain things, but not changing the reality. After all, street photography poses a completely different challenge. Almost all the people I was shooting on the streets, didn't know about it. I'm not asking permission before shooting. The suddenness is crucial! Street photographer can blend in with the crowd, it should not be noticeable".
"I don't like to take pictures of homeless people and some immoral things — everything connected with the degradation of the individual. This genre has the right to exist within the documentary, but for street photography this is in bad taste".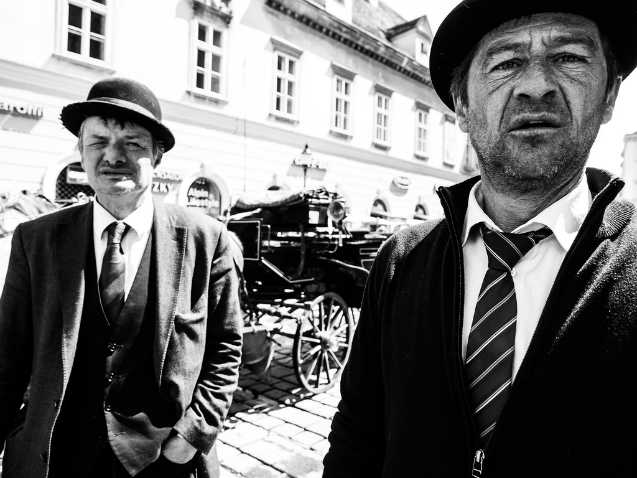 "The most important thing in this picture, the Shoe. Without it the frame would not be alive. A woman generally quickens the frame. It softens the scene. A man can't give softness to the frame. The expression of femininity in the frame — this is the Shoe".
"In Judaism between man and woman there is harmony. The Torah contains certain rules that he lives a Jewish family, and she says that women have enormous spiritual potential, which even exceeds the spiritual potential of men".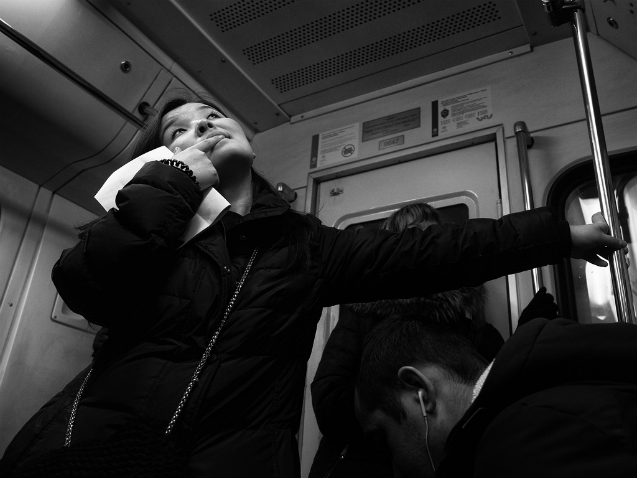 "The main thing in a Jewish home is the "Bayt Shalom" [peace in the home — approx. ed.]. In relations should be flexible. Wise partners — a man and a woman are one. Clashing with a partner you're in conflict with yourself. Why? On the basis of Judaism, thanks to the woman's material well-being is the family. A man must have a woman, but thanks to her wealth rained on him. It is written in the book of Zohar. When this woman needs to engage in self-expression, rather than sit at home and deteriorate".
"People in Riga are very heavy and sullen. A similar situation can be observed in some cities of Germany and Russia. Maybe this is because of the mentality, and maybe because of the economic situation and General fatigue. Photos — these things felt very serious. These people in the faces no joy, like those who live in more socially adapted countries".
"Narcissism is a psychological problem that existed at all times. Just with the advent of phones it has worsened. People make selfie from low self-esteem and to show what can actually they have not — thus they complement reality. But this deception of others and deception. You have too many blank thoughts in my head, if he is constantly engaged in "samomoderirovanie". A selfie is only a temporary phenomenon, which will sooner or later come to other areas that will be more interesting".
"People have lost communication skills. Today, they are afraid to approach each other just to say — it is easier to lay out a photo without saying good-bye to log out or put a smiley face instead of emotions. This simplifies the transfer of information on the Internet, but at the same time kills the ability to communicate in real life. People often enter into a stupor in personal communication. Or play the images, hiding behind your photos in social networks. And street photography shows a man as he is".